My Approach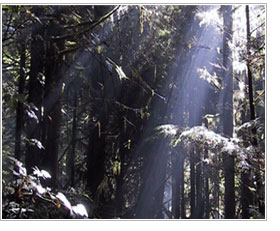 In general, the psychotherapeutic relationship between client and therapist serves as a vehicle or context in which the process of psychological growth is fostered. The client's concerns provide the subject of attention, or intentional focus. The manner in which these concerns are approached is important to consider because it enables the kind of growth that becomes possible only as both individuals work together.

According to the results of current psychological research studies, motivation and compatibility of approach are the two most determining factors of successful psychotherapy outcomes.

My psychotherapeutic approach is individualized to each client's unique concerns, to their immediate needs, their current level of distress, their fears and their desires, their vulnerabilities and strengths, their understanding of themselves and level of self awareness and to their personal historical development.

It is a collaborative and respectful approach that has been developing over the past 30 years. It is informed by multiple theoretical orientations (Analytical, Cognitive-Interpersonal, Client Centered, Gestalt, Narrative, Solution Focused, Neuro-Linguistic Processing and Family Systems). It has been effectively applied in several work settings and has been abundantly enriched by many years of training and professional supervision. It has been substantiated by rigorous and systematic, evidence-based, research of client satisfaction and the effectiveness of my therapeutic approach and it is deeply rooted in a long-standing and extensive study of the philosophical foundations of modern psychology. It is an approach that is in an ongoing process of growth and is always enhanced by my daily work as a Registered Psychologist and Counsellor with clients at my West Vancouver-based office.

Yet, it is a down-to-earth approach which offers a wide scope for exploring everyday living — our dilemmas, joys, anxieties, how we make meaning, our identities and choices. It helps us to make sense of our past and present experiences and to understand how we come to create life patterns we sometimes feel we have "fallen" into and have come to feel as though we are trapped or restricted by. Essentially, it is an approach that is directed toward enabling an individual to cope better by becoming more aware of their habitual style of operating in the world and in the manner in which they have been relating with other people. As well, it allows for a deeper exploration of the universal, core issues of human existence with the intention to free up one's natural ability to be living life more fully in the moment with the integrity of the power of responsibility and choice.

My approach is representative of the Existential-Humanistic tradition of modern psychotherapy. It carries forward the work of Humanistic psychology, as originally presented by Carl Rogers, Rollo May, James Bugental and Victor Frankl, but it is grounded in a thorough understanding of Existential philosophical literature that includes: Kierkegaard, Sartre, Merleau-Ponty, Heidegger, Husserl and Gadamer. Irving Yalom's 1980 edition of "Existential Psychology" is a good text for understanding the basics of this approach.

Humanistic psychotherapists believe that all people create themselves out of their choices and that fundamentally we all are responsible and free to choose. A Humanistic-Existential approach is directed toward acceptance and growth and shares a belief that people have the capacity for self-awareness and choice. From this perspective, people have an inherent potential to maintain healthy, meaningful relationships and to make choices that are in the interest of oneself and others.

This therapeutic approach focuses on helping people to free themselves from disabling assumptions and attitudes so that they can live fuller lives. It emphasizes growth and self-actualization rather than curing diseases or just alleviating symptoms. Existential psychotherapy shares this view, but deepens the focus of therapy to address the underlying, universal or essential issues regarding the meaning of life. This perspective targets immediate experience and essential or underlying presuppositions about life and holds that people have an inherent capacity for responsible self-direction. From this view, not-being one's true self is the source of problems. Living life authentically is the possibility that comes from attending to one's concerns from this approach.

Dr. James Bugental, colleague and founder of the approach, succinctly describes the Existential-Humanistic psychotherapy with humour and sophistication in his last book, entitled "Psychotherapy Isn't What You Think" (1999). In the following quotation, he addresses the question:



What Is Psychotherapy?



"Psychotherapy is not what you think. It isn't the healing of an illness. It isn't guidance from a wise counselor. It isn't the mutual sharing of a good friend. It isn't learning about esoteric knowledge. It isn't being shown the error of one's ways. It isn't finding a new religion. Psychotherapy isn't what you think.

Psychotherapy is not what you think. It surprises people because it is not primarily about your childhood... or about what has hurt or traumatized you... or about the germs in your body... or about destructive habits you've acquired... or about negative attitudes you carry... Psychotherapy is not

WHAT

you think. It is

HOW

you think. It calls attention to unrecognized assumptions in how you think. It makes a distinction between what you think and how you do that thinking. It is less concerned with looking for causes to explain what you do and more concerned with discovering patterns in the meanings you make by what you're doing.

Psychotherapy is about how you think. It is about how you live with your emotions. It is about the perspectives you bring to relating with the people who matter. It is about what you aspire to in your life and how you may unwittingly make it harder for yourself to reach those goals. It is about being helped to see that the change you seek is already within you. It is coming to recognize and appreciate the spark of something eternal that is your core.

Psychotherapy is not about what you think; it is about how you live with yourself right now."



Excerpt from the Prologue to "Psychotherapy Isn't What You Think" (1999, pg. 15) by Dr. James Bugental.